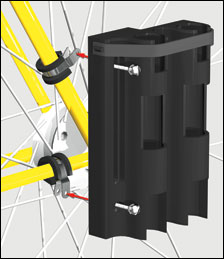 Finally...
You Can Ride Your Bike To Your Favorite Fishing Spot

With more and more state and national forests restricting motorized vehicles on trails, the only way to get to prime fishing spots is by foot or bicycle. Trails such as the Centennial Trail in Spokane Washington offer 37 miles of river access with another 15,000 miles of bicycle rail trails throughout the United States. There is also a total of 44,000 trails that run throughout 193 million acres of national and state forests. The majority of these trails run by a river, stream, or lake.


Pete Hall – Bike Fisherman Inventor
"I can't tell you how many big mouth, small mouth and trout I have caught out of the Spokane River because of my fishing rod holder for bicycles. I just throw my fishing rods in my rod holder, some tackle in a small backpack and away I go."


The Bike Fisherman gives bicycle enthusiasts the opportunity to combine cycling and fishing into a day of fun and sport. With the use of this unique rod holder for bicycles, you can enjoy biking safely to your favorite fishing spots that may be inaccessible by vehicles or too far to walk to.

The Bike Fisherman has been designed to hold two spinning rods* securely and reliably while also being Super Simple to install. Just tighten two clamps on the back of the rod holder around the back frame of the bicycle and you are ready to go! See our installation instructions here.
*maximum handle diameter 1-1/4 inches

View Our Lifetime Limited Warranty

Free Shipping within the USA
Order Now Only $36.95 $31.35 Limted Time 15% Summer Savings!!!